If you're looking for high-quality kitchen renovations in Ottawa, look no further! Terry Construction has been the top choice for homeowners in Ottawa for over 20 years.
Terry Construction is Ottawa's leading kitchen renovation company. We can do anything from kitchen renovations, kitchen construction, kitchen design, kitchen remodeling, small kitchen renovations, Custom kitchens and many more..
A kitchen remodeling often includes new cabinets, countertops, backsplashes, and appliances. Terry Construction can help you design or upgrade your new kitchen in Ottawa to suit the way you live and the space you have.
We specialize in kitchen remodeling projects for all types of kitchen spaces in Ottawa. Terry Construction offers complete kitchen renovation services that include: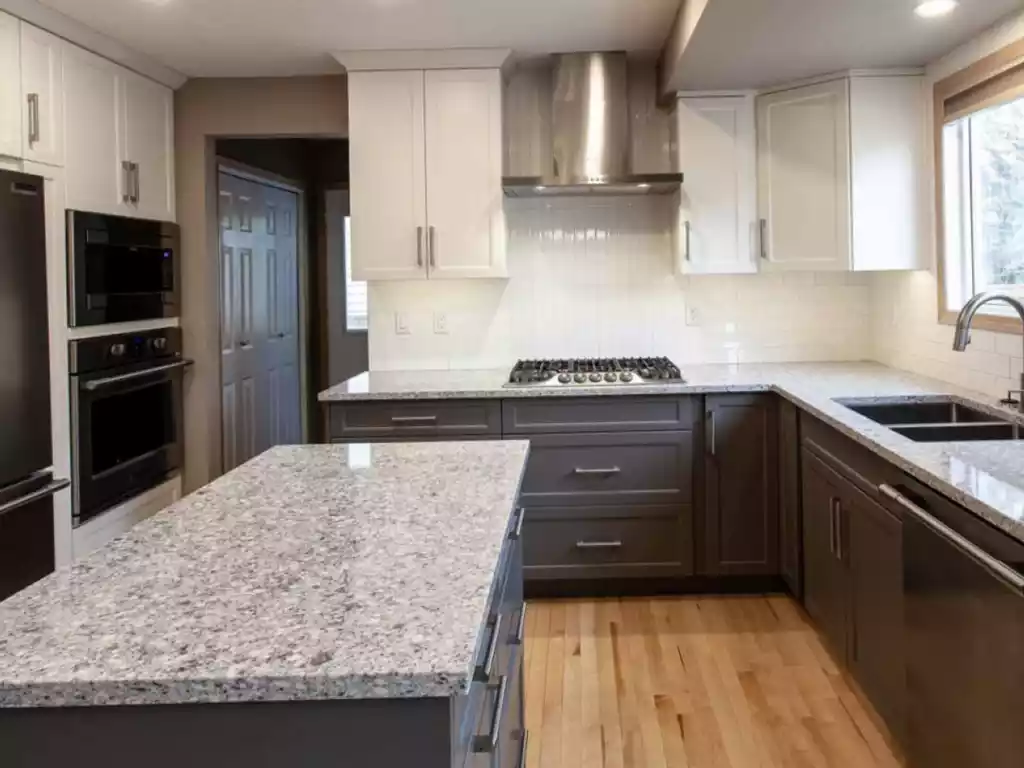 Why is it important to hire a reliable kitchen contractor?
The kitchen is a central part of every home. You spend hours in it cooking, relaxing, and gathering with loved ones.
Some people might think that they are capable of doing the job themselves. But it's better to call in professionals when you need to do something as important as remodeling your kitchen.
Kitchen Designer Ottawa: Your one-stop for all your kitchen design needs
Terry Construction is a company that specializes in kitchen design in Ottawa. We are able to design any type of kitchen from a traditional to a contemporary and every style. We offer kitchen design consultations and construction, and we always ensure the highest levels of quality.
Call us now and will help you design the perfect kitchen for your home!
Choose from our extensive portfolio of projects
If you're not sure what kind of kitchen you need or what you're looking for yourself or friends and family members, take a look at our gallery page. We have an extensive list of proven kitchen remodeling projects in Ottawa that can help guide you in making an informed decision.
Kitchen Cabinet Renovation
Are you tired of your old kitchen cabinets in Ottawa? Painting them just doesn't cut it anymore? If so, you will love the modern kitchen cabinets or custom kitchen cabinets available on market today. 
Our kitchen cabinets are designed with function and aesthetics in mind, with beautiful finishes and hardware to complement the kitchen space.
Why Should I Renovate Kitchen Cabinets?
Kitchen cabinet renovation will increase your kitchen's value, so give it an updated style, and improve the use of space in your home. You've seen those commercials for those home-improvement shows and they show you the latest trends in kitchen cabinet designs. You're wondering if you can use one of those ideas and renovate your kitchen with it on a budget. Our designs are tasteful, simple, affordable, and accessible for all of Ottawa's homeowners. Looking for quality kitchen cabinet renovation services in Ottawa?
Call us now: 613-301-0114
Kitchen Cabinets at Lower Prices
We install and remodel kitchen cabinets in Ottawa at lower prices than the competitors and without any hidden costs. This means that you not only get new cabinets but a whole new kitchen which will be more beautiful and functional.
Are you planning to install new kitchen cabinets in Ottawa or want to replace or remodel the whole kitchen? – we can help!
Terry Construction is a general contractor that offers the best kitchen renovations and remodeling services in the Ottawa area
If your kitchen has been feeling old or outdated, then our licensed and qualified team of kitchen remodeling contractors in Ottawa can help. We design and install custom kitchens in Ottawa. Let us take care of all your kitchen remodeling needs. We'll help you with design choices and install your new countertops, cabinets & more.
What You Need to Know Before Starting a Kitchen Renovation project
Renovating a kitchen can be an expensive and time-consuming task. So if you are looking for ways to save some money and time, here are a few tips that will help you do just that:
Have you been considering kitchen renovations? We have all the answers to your most common questions.
There are tough decisions to make when renovating your kitchen. Our FAQs will help you navigate through the process and help you better understand the process. Learn more about a kitchen renovation with our FAQs and be confident in your decision.
There are many ways to save money on a kitchen renovation. 
First, take into account what you will need and not just what you don't want. You may find that you are paying for features that you will never use in your kitchen. 

Best way to save money on your kitchen renovation or remodeling project is by focusing on the quality of materials rather than the quantity. A good example of this is opting for a less expensive countertop material, but going with one that will last and is easy to maintain.
You can also save money by shopping around for the best deals and offers for kitchen materials, as well as for discounted labor.
There are different styles of kitchens to choose from. Some people prefer a more traditional look while others want something more modern or country-style. The style you choose is up to you, but it should be something that works well with the style of your home and what you're looking for in a kitchen.
The team at Terry Construction will take care of your kitchen design process. Whether you need color or material advice, they will help you find the right products for your needs.
There are many ways to get inspiration for kitchen remodeling. You can browse through magazines and design websites. You can also visit the homes of friends, family members or neighbors.

One of the most popular ways to get inspiration is by browsing through design websites like Pinterest: Kitchen Remodel Idea or Inspiration or Google Images. This method has its pros and cons, but it is a good way to get an idea of what you want in your kitchen without even visiting your local store.  


Ready to start your Kitchen Renovation Project in Ottawa?
Are you planning on renovating your kitchen? Kitchen remodeling can be an exciting project that will transform your home into a beautiful space.
Schedule an appointment with our kitchen renovation experts
If you need professional assistance for your kitchen renovation or kitchen remodeling project in Ottawa, contact us today. Our team will work with you to determine the scope of the project and provide a free estimate.
Our team will provide you with an estimate
We understand that renovating your kitchen can be stressful, but our team will make sure that everything goes smoothly. We will also ensure that you receive the highest quality service at a reasonable price.
Calling all Ottawa homeowners! If you're looking for an experienced and licensed, reliable kitchen contractor in Ottawa. With years of experience in the construction industry, we can help. Call us now: 613-301-0114